This article is a stub. You can help the Wonder Boy Wiki by expanding it!
Shion (シオン), also known as Wonder Boy is the protagonist from Wonder Boy in Monster World, a brave young man that vowed to defeat the army of monsters causing trouble in Monster World and return peace to the land. He is the descendant of heroes that saved the land in the past. During his journey he gains better equipments, magic powers, and allies that assist him.
In Monster World IV there is a book in the royal palace that details what happened with Shion after he saved Monster World. Upon defeating the Dark One, he asked the four spirits to watch over the monsters evermore, so that calamity would never strike again.
In Monster Boy and the Cursed Kingdom, Shion, alongside Boy and Book, is one of the three spirits from past heroes that appears to assist Jin. He can also be seen in a stained glass alongside Boy, Book, and Asha.
Other versions
[
]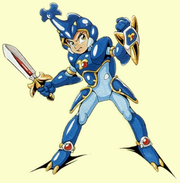 Gallery
[
]