This article is a stub. You can help the Wonder Boy Wiki by expanding it!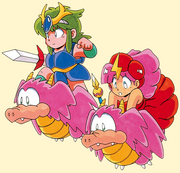 Leo (レオ Reo, also known as Adam) and Purapril (プラプリル Purapuriru, also known as Papillo, Pappilo, Priscilla, and Laura) are the protagonists from Wonder Boy III: Monster Lair.
They were tasked with the objective of recovering the Legendary Sword, Legendary Shield and Legendary Armor after the items were stolen by the evil invaders.